Line Symmetry Worksheets
What is Line Symmetry? We often find symmetrical things around us. We call an object symmetrical to the other one when there is an exact reflection or mirror image. A particular object, line, or shape is formed. The line of symmetry can be defined as the axis or an imaginary line that passes through an object or shape dividing it into two identical and equal parts. For instance, we have the following shapes: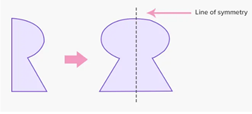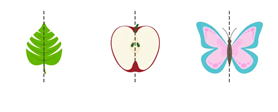 Here, the dotted line is the line of symmetry. The above shapes are divided by the line of symmetry and these figures have an exact resemblance to each other. They are also divided into two equal parts.
Geometry and Algebra Humor
These old faithfuls are sure to elicit groans from the crowd:
What did the complementary angle say to the isosceles triangle?
Nice legs.
Question: What is the full name of the creator of Algebra?

Answer: Muhammed Al-Khwarizmi is the guy and "Al Jabr" literally means "the reconstruction".<