Rotational Symmetry Worksheets
What is Rotational Symmetry? A figure has rotational symmetry when it is rotated between 0 degrees to 360 degrees, and the image stays aligned with the pre-image. Or to put in simpler terms, a shape has rotational symmetry when it looks the same even after rotation. Many shapes like rectangles, circles, squares, and regular polygons have rotational symmetry. Select any of these shapes and rotate it at 180 degrees around its center. The shape will look the same as it did before. The center of the shape is the point around which rotational symmetry occurs. Also, the angle of rotational symmetry is the smallest angle for which the figure is rotated to match with itself. Order of symmetry is defined as the number of times the figure matches with itself when rotated at 360 degrees.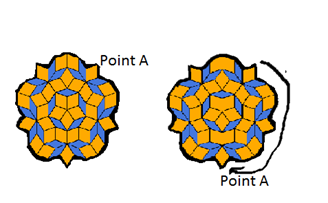 The figure shown above has an order of 5. That means that you can turn the figure 5 times around the specific point. Even after being rotated 5 times, the figure will look the same as they did before they were rotated. Note that 2 would be the smallest order of symmetry. You cannot have a figure that has an order of rotation of 1. An order of 1 would mean that the figure doesn't have rotational symmetry.
Question:
What geometrical shape forms the hole that fits an Allen wrench?

Answer: The hexagon