Time Word Problems Worksheets
How to Find the Elapsed Time of an Event - The elapsed time is the difference between the starting and the closing time. To find the elapsed time for any given event, the children must be able to understand the core concepts behind time and arithmetic operations. Since, the time has not more than 60 minutes and seconds, with hours being not more than 24. Now, there are various ways in which you can evaluate the elapsed time. Let us discuss them below. You can think of a problem, by picturing the time on the clock and moving it by hours or minutes. For instance, 11:50 pm + 1 hour = 12:50 am; given that the day changes at 12. When you are taking out the difference, there are different things you need to consider. The most important thing is the borrowing step. In this regard, we have to be just as careful as we are during decimal subtraction. Let us take an example.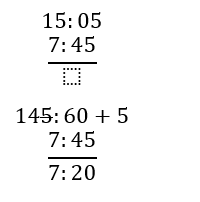 Time In Numbers...
There are 1,000 milliseconds in a second, 60 seconds in a minute, 60 minutes in an hour, 24 hours in a day, 7 days in a week and 52 weeks or 365 days in a year. This day is why we have a leap year every four years.