What Time Is It? Worksheets
How to Draw the Hands on a Clock to Represent Time - Making your children learn about time is a hectic task, given that a normal analog clock doesn't' have much information to begin with. On the other hand, you cannot rely on a digital clock to make understanding easier. Thus, this is where drawing hands to represent time is a necessary learning objective. Now, the basic rule of math is practice makes perfect, which is exactly what is required here. In other words, for your students to learn the clock representation, they must practice drawing hands on a clock regularly. The key to practice is you must devise questions by performing increment of different durations. Let us consider an example: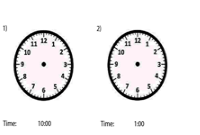 Now, the students must select a time on the left clock by drawing hands. And then, they can increment an hour to the original time. So, if the first clock shows half past 9, then the next one will show at half-past 10.
Try this math teaser with your friends:
How many times can you subtract seven from eighty-three, and what is left afterward?

Answer: I can subtract 7 from 83 as many times as I want to - and it leaves 767 every time!