Pythagorean Theorem Word Problem Worksheets
What is the Purpose of the Pythagorean Theorem? Pythagorean theorem describes the relationship between the sides of a right-angled triangle. The Pythagorean formula is applied on a right-angled triangle and is used to determine the hypotenuse, base and the perpendicular of the triangle. The theorem states that: "In a right-angled triangle, the square of the hypotenuse side is equal to the squares of the perpendicular side and the base side." The hypotenuse is the longest side, and perpendicular is the side opposite to the hypotenuse side.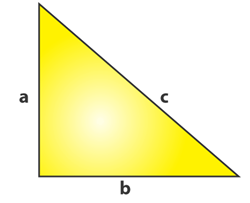 Consider the triangle above, where a is the perpendicular side, b is the base side, and c is the hypotenuse. According to the definition of the Pythagorean theorem, the formula would be written as: c
2
= a
2
+ b
2
. Pythagorean theorem allows us to find the length of a side when two lengths are known, making it a useful technique in navigation and construction. When we have two known sides, we can easily find out the length of the diagonal. This approach is used in construction projects, woodworking, and architecture. Also, the Pythagorean theorem is used for two-dimensional navigation. When drawing a map, cartographers use the Pythagorean theorem to find the height and distance between different points.
The Pythagorean Theorem states,
"In a right triangle, the square of the hypotenuse equals the sum of the squares of the 2 other sides." Other civilizations knew it long before Pythagoras, but he generalized it and made it popular.